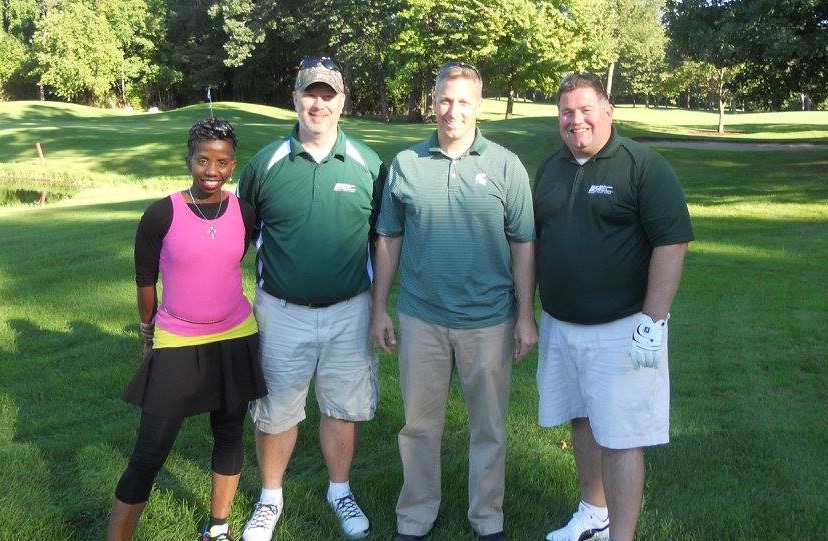 The East Lansing Rotary's 30th annual Scramble for Scholarships will be held on Monday, September 11, 2017 at the Timber Ridge Golf Club located at 16339 Park Lake Road in East Lansing. This year's Scramble kicks-off with a shotgun start at 1:30 pm, followed by dinner and prizes at 6:00 pm.
Since the events inception in 1987, the Rotary Club of East Lansing has used the proceeds from this event to provide scholarships to help support East Lansing high school graduates with their college expenses. Over the past 30 years, the golf outing has raised and awarded over $100,000 for these scholarships. This past spring a total of $7,500 in scholarships was awarded to six college-bound East Lansing high school seniors.
Goal for 30th Annual Scramble for Scholarships
This year's goal is to raise $10,000 so that we can continue this important club tradition aimed at helping deserving graduates of East Lansing High School with their college expenses.
We invite you to join with us in this effort by:
a) making a reservation to play in this year's Scramble. Reservations ($500 for a foursome & green/tee sponsorship, or $100 per golfer) can be made by contacting Timber Ridge directly (517/339-8000), or by sending a check payable to: East Lansing Rotary Foundation c/o 2017 Scramble for Scholarships, P.O. Box 4205, East Lansing, MI 48826.
b) becoming a sponsor. To reserve one of the sponsorships listed below, please contact John Saltzgaber (517/881-6112 or saltzgaberj@comcast.net).
and/or
c) donating prize. To donate a prize for this year's Scramble, please contact Bob Page (517/347-6990 or robann@msu.edu)
2017 Scramble for Scholarships Sponsors as of 8/15/17
Dinner Sponsors (1 still available @ $300)
Par 3 closest-to-the-pin (1 still available @ $250)
Horizon Bank
Michigan Flyer/Indian Trails
Dart Bank
Hole Sponsor (5 still available @ $200)
Williams AutoWorld
Brogan Reed & VanGorder
Andrews Hooper Pavlik PLC
Jim Little
Tee/Green Sponsor ($100 each)
MSUFCU
Dean Transportation
Prime Housing Group
Dennis Rosenbrook
Koehler's Printing
Nathan Triplett
Bennington Cross Group/Merrill Lynch
Farmer's Insurance – Okemos