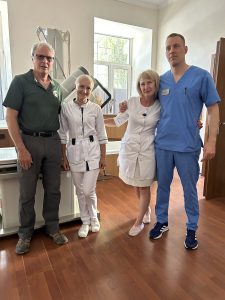 The East Lansing Rotary Foundation is partnering with member Ody Norkin (photo, far left) to provide medical supplies for humanitarian aid to Ukraine.   So far Ody has delivered ambulances and medical-surgical supplies to hospitals in Dnipro City that are treating both war and civilian victims of bomb shelling across the country.
The donations to this fund will be used exclusively to purchase badly needed medical equipment for surgeons who are currently using an outdated 1975 X-ray machine for amputations and surgeries to remove shrapnel.  The updated equipment will save more lives by helping surgeons perform more precise and timely work.
Our goal is to obtain a digital X-ray plate costing $18,000 and a CT Scanner costing $60,000.  The equipment will be purchased as soon as sufficient funds are raised.
Thank you for your generosity in supporting this humanitarian effort for medical supplies for Ukraine.