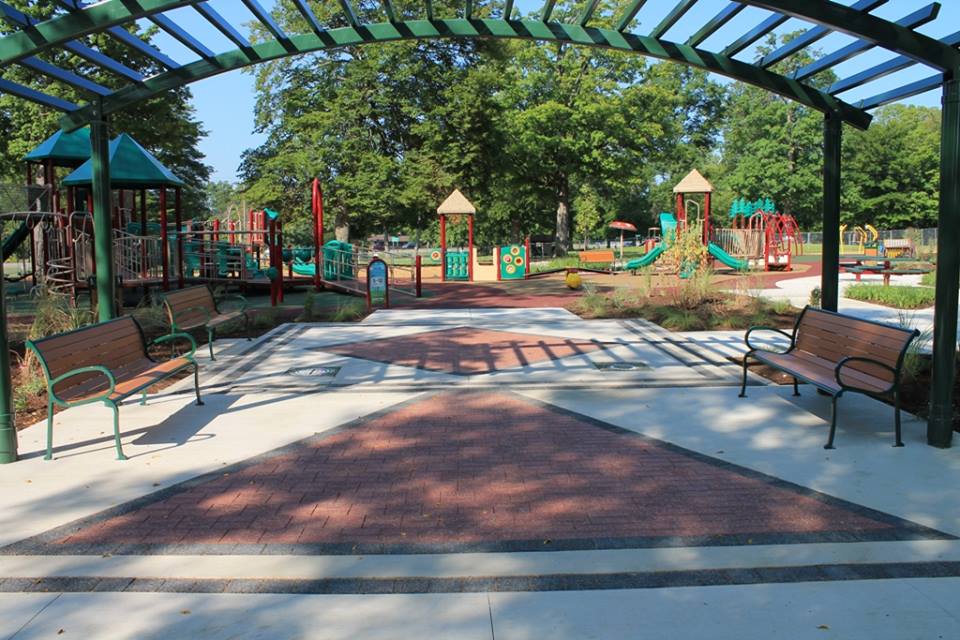 August 4th, 2014 was a great day for the City of East Lansing and the East Lansing Rotary Club, a great day to celebrate a new park. Over 4 ½ years of work culminated in a community celebration of the completion of the Playground In the Park Re-Imagined. Not even an epic thunderstorm could dampen the day – shorten the ceremony, yes, but dampen the spirits of those attending – not a chance!
Sweet Celebration
It was a sweet celebration in many ways. To see East Lansing Rotarian and now East Lansing Mayor Nathan Triplett deftly manage the rapidly compressed recognition ceremony; to welcome all of the major sponsors and donors for special recognition; to witness Project Chairperson, John Saltzgaber, receive a standing ovation; to enjoy special commemorative cookies and ice cream; and best of all to see the children in absolute joy over the long-awaited brand new play space. It was sweet indeed.
Safety Surface
Stepping foot for the first time on the special poured in place safety surface brings the benefit of this surface to life as the surface gives way underfoot and springs back. Knowing that this equipment is safe, eco-friendly, long –lasting, and handicap accessible says the community got it right when they asked for all of these qualities during the planning sessions.
The Past and Future Meet
This project is truly a capstone event for the East Lansing Rotary Club, and perfectly aligns with the 1995 Playground Project which first fired the imagination of the community – also spearheaded by the East Lansing Rotary Club. It is fitting that when the permanent signage arrives in a few months, there will be a special sign commemorating all of the 1995 Park Donors.  To learn how you can still be part of the new park celebration contact  saltzgaberj@comcast.net