East Lansing Rotary Names October Students of the Month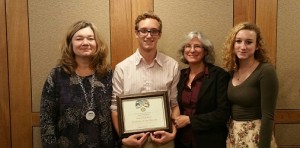 Daniel Hoffman is a senior at East Lansing High School who has maintained a 3.9 GPA. He enjoys drawing, painting, playing the guitar and running – which is why he is on the East Lansing Cross Country team. Daniel is also a member of the Christian Student Union, he looks to further his education in the arts and mathematics as well as education of youth. When asked who his favorite teacher was Daniel was quick to reply John Brandenburg his Calculus AB teacher, Daniel enjoyed Mr. Brandenburg's class because of his wit, humor, and compassion shown to the students. Daniel was just as quick in his reply of who his favorite living person was – his father, because of quiet, yet impactful guidance. Daniel was recommended for this award by Instructor Robin Remer-Saenz, who shared that Daniel is a very creative student with a strong personal drive for excellence. Remer-Saenz went on to say that Daniel works hard to grow as an artist, staying after school, reaching beyond the assignment requirements, putting in extra life drawing sessions at MSU, as well as ongoing projects at home. The passion he brings to his work, along with a willingness to explore new ideas and respond productively to feedback, makes him successful at what he attempts.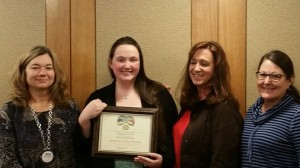 Montgomery Smith is a senior at East Lansing High School with a 4.02 GPA. Montgomery is not shy about demonstrating and utilizing her intelligence participating in The Physics, Chemistry, and Science Olympiads, as well as Quiz Bowl. She is on the varsity bowling team, collects antiques and buttons, is a Sparrow Hospital volunteer and of course is a member of the National Honor Society. Montgomery has her eye set on a degree in Chemical Engineering at a Big Ten school, preferably U of M or MSU. Montgomery picked favorite teachers from each hemisphere of her brain. Ms. Remer-Saenz for her incredible devotion to her art students and Mr. Plough who teaches AP Physics saying she admires the incredible knowledge he demonstrates in his field.