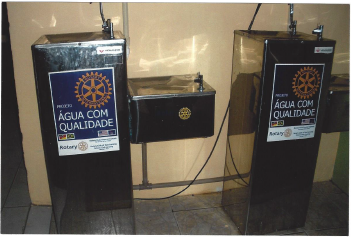 A healthy safe drinking water project was spearheaded by East Lansing Rotarian, Dr. Omero Iung. Through his leadership an international partnership between three Rotary Clubs – East Lansing Rotary Club, Lansing Rotary Club in Michigan's Capital of Lansing, and Rotary Club General Camara of Rio Grande do Sul in Brazil was established in the Fall of 2013. The mission was to create healthy, safe drinking water in local schools from General Camara, Brazil.
Funding the Fountains
Both the Lansing and East Lansing Rotary Club's donated $2,500, for a total of $5,000 towards the project plan of purchasing and installing 10 drinking fountains. The Rotary Club of General Camara took responsibility for acquiring, installing the fountains and educating the community on water preservation. In October of 2013 the funds were received from the United States. Due to the favorable exchange rate of the dollar to reais, Rotarians of General Camara were able to acquire one additional drinking fountain.
Installing the Fountains
Installation of the 11 fountains commenced in November of 2013, and the project was completed in March of 2014 with a break between December and February for the annual school holiday. Follows is a list of schools and the number of fountains:
City Elementary School Oraida Pereira in Passo da Taquara – 1
City Elementary School Trajano Azambja in Boqueirao – 1
City Elementary School Maria Jose in Potreiro – 2
City Elementary School Padre Ely in Banheiro Velho– 1
City Elementary School Mathias in Boca da Picada – 1
State High School Joao Cannabarro in the county seat – 1
Municipal School of Child Education Norberto Fagundes Ribeiro in the county seat – 2
State Institute of Education Vasconcelos Jardim in the county seat – 2
It is estimated that 1,500 students and 500 teacher, staff, administrators and visitors will enjoy the benefit of consistently delivered healthy and safe drinking water. In addition, the local Rotary Club coordinated talks by experts on the importance of water preservation and the rational use of water with the expectation that those messages would be carried home to families and communities.
Congratulations to all Rotary partners for a successful project completed.
For a complete copy of the report which outlined detailed costs related to this project may contact Dr. Omero Iung c/o the East Lansing Rotary Club