The East Lansing Rotary Club is saddened at the loss of long time member Doug Langham. Following are details about the memorial for Doug.
Doug passed away peacefully on June 9, 2016 at the age of 75. He was born in Mason, Michigan on September 15, 1940, the son of Ora Glenn (Doc) and Nellie Langham.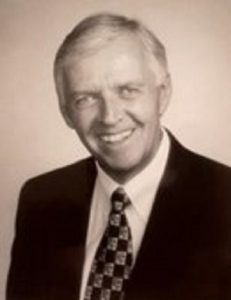 This kind, smart, gentle, generous man will be remembered as a much loved son, brother, uncle, friend and beloved husband to Joan Bauer.
After graduating from Mason High School and working for several years in Detroit, Doug moved to San Francisco in the late 1960s where he earned his bachelor's degree from California State University Hayward.  He returned to the Lansing area and earned a master's degree in Rehabilitation Counseling from Michigan State University.  For the majority of his 30-year career with state government he was administrator of the Vocational Rehabilitation Division in the Michigan Department of Labor where he was well-known and deeply respected for his unwavering commitment to injured workers.  He served as president of the Michigan Rehabilitation Association, which honored him with its Award of Excellence. He also received the National Rehabilitation Association's prestigious Mary Switzer Scholar Award.
Doug was a dedicated member of the East Lansing Rotary, where as president he was instrumental in the decision to build the Playground at Patriarch Park. As part of a Rotary Humanitarian Aid Mission, he helped organize and deliver medical supplies from Lansing to Nicaragua.  Doug was an active member of the Lansing Regional Sister City Commission, twice visiting Saint Petersburg, Russia.
In addition to his wife Joan Bauer, the love of his life, he is survived by his brother Richard Dimond, sister Dorothy Taylor, nephew James Taylor, parents-in-law Jean and Ted Bauer, brother-in-law Joe Bauer (Liz), sister-in-law Nancie Bauer, and numerous nieces, nephews, cousins and friends who adored him.  He was predeceased by his brother, Donald.
The family will receive visitors Wednesday, June 22, 2016 from 5-8 pm at the Gorsline Runciman Funeral Homes, 900 E. Michigan Ave. in Lansing.  A "Celebration of Doug's Life" for friends and family will be held Thursday, June 23 at 3:00 pm at the Country Club of Lansing. In lieu of flowers, contributions may be made to the East Lansing Rotary Foundation, the Michigan Maritime Museum for the Friends Good Will, and the Stoneleigh Residence/Hospice of Lansing. Most of all, you are encouraged to be kind to others in memory of this kind and gentle man.
  Condolences and memories may be shared with the family at
www.grlansing.com
.