C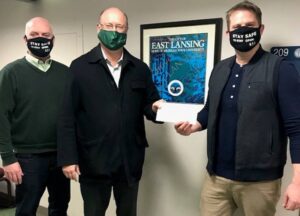 hris Nugent, President-elect of the East Lansing Rotary and Peter Dewan, Board Member of the East Lansing Rotary Foundation presented a $5000 check to Adam Cummins, Community & Economic Development Administrator, City of East Lansing to support the Place Project.  The Place Project is an initiative created to help sustain and provide additional business support services in response to the significant economic consequences experienced by the COVID-19 pandemic.
The Place Project (Project) is part of a long-term economic development and recovery strategy that will help address some of the many social and economic challenges presented by the COVID-19 pandemic. Multi-disciplinary and experimental, the Place Project will prioritize public health and use simple, cost-effective tactical urbanism techniques to reactivate and enhance downtown public spaces by providing interesting, comfortable places for the community to safely gather and engage in the local economy.  Each location identified for the Project will be designed for social distancing, as applicable, to provide an environment for people to socialize safely, engage in the local economy, and get outdoors.  "East Lansing Rotary members are pleased to partner with the City of East Lansing as we navigate through these challenging times.  East Lansing Rotary members continue to seek out opportunities to fulfill our motto "Service above Self" and the Place Project is an excellent way to support our community", said Peter Dewan.
Key areas of the downtown the Place Project will actively engage include: the MAC Parking Garage, the elevated plaza at the Marriott, the Division Street Garage, Ann Street Plaza, Bill Sharp Park and the 500 Block pedestrian alley.  Included in the programming will be pop-up Farmers' markets, East Lansing library programs, Art Pop-up displays, safe public seating and warming areas among other community events.  Additional information about the Place Project can be found at https://www.cityofeastlansing.com/CivicAlerts.aspx?AID=1354.