Laura E. Swanson, the Director/Producer of Break the Chain, a documentary about Human Trafficking, gave a stirring presentation at the East Lansing Rotary Club on Monday, May 22.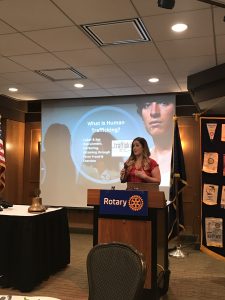 About the Film
Produced and Directed by Michigan documentary filmmakers, Laura E. Swanson and Kirk Mason, 'Break the Chain'  is an award-winning feature-length documentary film that addresses the often "hidden-in-plain-sight" issue of Human Trafficking within Michigan communities and the United States.  The film chronicles two survivors of Human Trafficking – providing a detailed look at how trafficking goes unnoticed within our backyards.  Kwami, a child survivor of Labor Trafficking, was enslaved for nearly five years with three other children in Ypsilanti, Michigan before anyone noticed.  Debbie, a survivor of Sex Trafficking, takes us through her experience of being sold for sex around the Detroit-Area between the ages of 13 and 18.
Accompanying the stories of these survivors are nearly 20 interviews with researchers, Senators, non-profit organizations, legal service agencies, law enforcement officers and several artists actively working to raise awareness for this global issue. The film teaches us that what we see in the media about human trafficking is one small sensationalized form – that it occurs anywhere and everywhere within our world.  More importantly, viewers will learn how we are all connected to this extremely profitable business and that we have the power to choose what we support, and ultimately, how we break the chain.
HOW THE FILM IS USED
Break the Chain was developed to provide an accurate and educational entertainment resource that can be utilized in trainings and community awareness events throughout the United States.
Currently, we are partnering with police, public schools, universities, state courts, child-services, shelters and nonprofit organizations for Public Screenings and Private Trainings on the issue of Human Trafficking. http://breakthechainfilm.com/