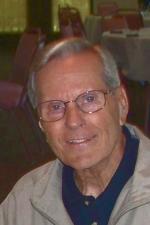 Bob Page: "Dedicated to Service!" 
The East Lansing Rotary Club is proud to announce that long-time Rotarian Bob Page has been chosen as the 2017 Rotary Club Hero.
Bob Page has been a member of the Rotary Club of East Lansing for nearly 40 years and truly exemplifies the Rotary motto of "Service Above Self."
During this time, Bob has served in numerous leadership roles including: club president, chair of the club's 50th anniversary celebration, chair of the membership committee, chair of the club's annual golf outing fundraiser, and long-time member of the club's Community Service/Vocational Service Committee.
Bob's selfless gifts of time and talent have made a significant contribution to the success of numerous club projects; most recently: the renovation of the playground at East Lansing's Patriarche Park, the revitalization of our club's annual golf outing which last year raised over $8,000 to provide scholarships for students going onto college and sustaining the Weekend Survival Kits program which provides food kits for hungry children throughout the school year.
Thanks to Bob's dedication to "Service Above Self," our club is stronger and our community is a better place to live, work and play.