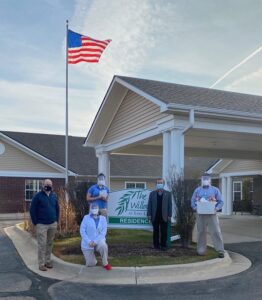 East Lansing, MI – The Rotary Club of East Lansing is providing some "holiday cheer" this year for the residents and staff of the Willows at East Lansing.
The Willows at East Lansing – part of Trilogy Healthcare Services, headquartered in Louisville, KY – opened its' doors in 2014. The facility can serve up to 139 residents across all service lines, including: Assisted Living, Memory Care, Short-Term Rehab, Long-Term Care, and Respite Care.
Currently, The Willows at East Lansing is providing care for 22 residents in the Assisted Living program and 15 residents in Memory Care. These individuals have been isolated from their families and friends since March 2020 and have been quarantined several times since then, per orders from the governor and/or state health director.
"People across mid-Michigan have been affected in innumerable ways by the Covid-19 pandemic. Our club thought that it would be in keeping with Rotary's motto of "Service Above Self" if we could pinpoint at least one way to brighten the lives of people in our community during these challenging and oftentimes trying times," said Sung Lee, President of the Rotary Club of East Lansing.
"One idea that surfaced was to provide some 'holiday cheer' for the residents at The Willows and at the same time thank the staff there in some small way for all of their efforts to support the residents in their care," said Lee.
He pointed out that the Rotary Club is providing assisted living care residents with "goodie bags" filled with an assortment of snacks and candies, a pocket calendar, a writing journal and a puzzle book and providing memory care residents with a variety of tasty treats. In addition, the club is providing twenty (20) $25 Meijer gift cards to be distributed to The Willows staff – nurses, nurses aides, housekeeping, maintenance, kitchen and administrative staff – via a special employee "blind" drawing to be held prior to Christmas. The gift cards can be used to purchase food, clothing, or other store items.
"This gesture by the Rotary Club is a big boost to our morale here at the Willows," said The Willows Executive Director Keith Fisher. "Our staff has been working hard to insure the health and safety of our residents and this gesture by the Rotary Club is not only uplifting for everyone here; but most appreciated," he said.
The Rotary Club of East Lansing has a long record of community service dating back to its formation in 1961. The Club currently has 48 members and has supported numerous community projects, including the children's playground at Patriarche Park, the East Lansing softball fields and aquatic center and numerous upgrades and renovations at Haven House.
Photo: From left to right: Chris Nugent, E. Lansing Rotary President Elect; Erica Flegal, The Willows – Asst. Director of Health Services; Jessi Yeargin, The Willows – Weekend Supervisor; Sung Lee, E. Lansing Rotary President and Keith Fisher, The Willows – Executive Director.